Sexual Harassment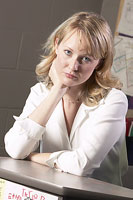 Our Atlanta sexual harassment attorney team understands that sexual harassment is one of the most crushing, terrible things an employee can endure. It is inappropriate, degrading, humiliating, and interferes with an employee's ability to do his or her job. Atlanta sexual harassment attorney Brandon Hornsby will show you that you do not need to put up with sexual harassment in the workplace.
It is important to remember that sexual harassment occurs in a variety of circumstances. The victim as well as the harasser may be a woman or a man and the victim does not have to be of the opposite sex of his or her harasser. Furthermore, the harasser can be not only the victim's supervisor, but also may be a co-worker.
Atlanta sexual harassment attorney Brandon Hornsby knows that sexual harassment is unlawful because it violates Title VII of the Civil Rights Act of 1964. Sexual harassment is considered sexual discrimination can come in a variety of forms and can include unwelcome sexual advances or propositions, requests or demands for sexual favors, and other verbal or physical behavior which explicitly or implicitly affects your employment, unreasonably interferes with your employment, or creates a hostile work environment.
Atlanta sexual harassment attorney Brandon Hornsby's sensitive treatment of sexual harassment issues combined with his expertise in Title VII make him the best fit for you. Our firm believes that the workplace should be a free and safe place for an individual to perform the tasks of his or her job and make money to provide for one's family. It is Atlanta sexual harassment attorney Brandon Hornsby's opinion that sexual harassment in an environment where an individual spends most of his or her time is particularly odious and should not and will not be tolerated. Contact an Atlanta sexual harassment attorney at Brandon Hornsby, P.C. today to discuss your case and end unlawful sexual harassment.